We are The Leading Quality Pool Builder
Customer Service is our top priority. We take your dreams and make it a reality.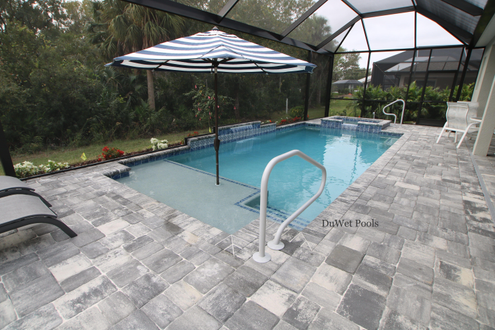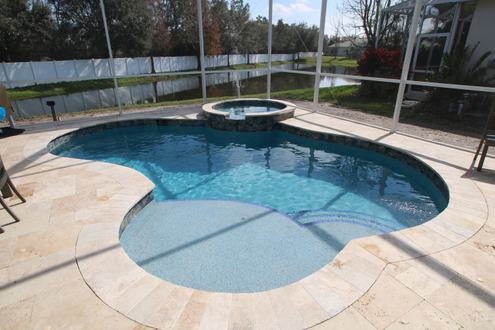 DuWet Pools & Spas., (CPC1456995) is a family owned business, specializing in the construction of custom swimming pools and spas.
DuWet was established by Carl (Randy) Holbrook. He and his wife, Kim, take pride in being responsible for the business' daily management and operation. Hard work and honesty go into each of our quality-built swimming pools. All heavy equipment is company owned and to the homeowner buying the pool, this is important because it means no scheduling delays.
When you call on DuWet to build a pool, we will come to your home for a free consultation to determine your needs in a pool package. Next, you get an "up close and personal" consultation at our Office and pool showroom. You can be involved in the computer aided designing of your pool and you will be able to observe the actual on-screen design of your personal pool package. Our showroom is available for hands-on selection of many pool design ideas, pool tile & coping selections, pool and deck finishes and pool equipment choices. The showroom walls are filled with photos of our pools and spas. At the completion of constructing your new pool, we offer a poolside pool school session to review all you need to know to operate your new pool. We will leave you with a notebook of helpful instructions and warranty info.
DuWet has a team of highly qualified employees, whose sole focus is working as a team to provide you with a pool package that will fit all your needs. We understand owning a swimming pool is a big investment. We would feel privileged to earn your business and would work hard to make the occasion a rewarding experience. Our goal, in addition to performing quality work, is to provide our customers with complete satisfaction and support. We warranty the entire project for one year.
We are properly licensed and insured to meet all qualifications of Manatee County (Lakewood Ranch, Terra Ceia, Bradenton, Palmetto, Ellenton, Parrish, Duette),
Congratulations on your decision to own a custom swimming pool. You are about to make a big decision - one that will impact you and your family for years, choosing the right pool builder. We suggest that you interview all prospective pool builders and ask them a series of questions to determine their technical knowledge and ability, their business stability and experience, their professional reputation and credibility and their commitment to customer service.
Still have some questions, before making your final decision, visit our FAQ page.